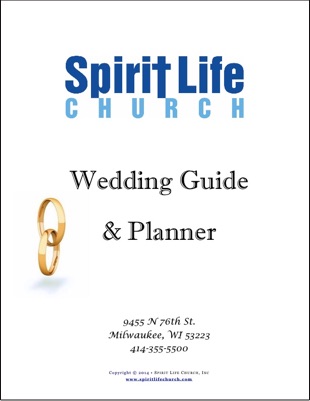 WEDDINGS
We are excited to serve you during the process of marriage and wedding planning. We offer a variety of resources to help you plan and execute your rehearsal and wedding. If you would like to schedule your wedding at Spirit Life Church, please contact Pastor Tom Wilke to set up an appointment.
In preparation for the marriage ceremony and events surrounding the day, look over our wedding planner and guide below. Just click on the link to download a copy.
Pastoral statement on marriage: Though the culture has evolving definitions of marriage, we believe that it is God alone who has the ultimate authority to prescribe and describe the marital relationship (Gen. 2:24; Matt. 19:1-9; Mark 10:1-12). Regarding this relationship the United States constitution gives no rights nor a definition.
Because of this Biblical understanding, we will only recognize marriages that meet the God-given definition: a covenant relationship between one gender­-normative man and one gender­-normative woman. The pastors and staff of Spirit Life Church will only participate in weddings and officiate marriages that meet this definition. The facilities and property of Spirit Life Church will only host marriage ceremonies that meet this definition.
Attached is a Wedding Guide that is used by Pastor Tom to help couples in planning for their special day. Feel free to use it to assist in your wedding planning. Please review the information as it includes rental fees for rooms and services and planning requirements for the event.
Blessings on your special day!