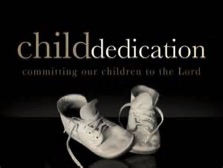 CHILD DEDICATION CEREMONY
  What is a Child Dedication Celebration?

This special service permits parents to publicly present their children to God and to make a commitment to bring their children up in a Christ-centered home. At Spirit Life Church, Child Dedication takes place during our Sunday Celebration Service.
What does it signify?
It is an act of dedication by the parent(s) and sponsor(s), making a spiritual commitment to God concerning the upbringing of their child. This commitment involves a lifestyle of praying for the child, teaching from God's Word and setting a Christ-like example.
How is this different from baptism?
Dedication is not infant baptism. It does not indicate or assure salvation. At Spirit Life Church, we believe that every person must exercise personal faith in Christ. For an in-depth explanation of baptism at Spirit Life Church, pick up a Baptism Brochure at the information center in the lobby or go to the Baptism Page.
Where in Scripture is there a precedent for dedication of a child?
Hannah presented her son, Samuel, to the Lord in Shiloh (1 Sam. 1:11). Jesus was also dedicated to God (Luke 2:22) and He allowed little children to come to Him for His blessing (Matt. 19:13-15).
How do I sign up?
Please contact Pastor Tom to schedule a dedication for your child.
MORE QUESTIONS?
"Child Dedication" does not adequately define what takes place at this formal ceremony.   A better description would be to call it "Parental Dedication."
The Bible over and over again admonishes parents to teach their children how to love and obey their God.  Moses said, "Impress them (commandments) on your children." (Deut. 6:4-9)  The bulk of the Book of Proverbs is an impassionate plea from a father to a son instructing him to know, live and apply the Lord's commands.  The Apostle Paul said, "Fathers, do not exasperate your children; instead, bring them up in the training and instruction of the Lord." (Ephesians 6:4)
During the "Child Dedication" ceremony, the parents of the child or children are publicly declaring their personal commitment to Christ and their whole-hearted commitment to raising their children in the instruction of the Lord.
As is the experience of many in our part of the world, some would say that infant baptism is a form of "Baby Dedication," while others also believe that infant baptism removes original sin and secures salvation for the child involved.
Our understanding of baptism at Spirit Life Church is to be an act of obedience that follows believing on Christ (see Mark 16:16). This is known as "believer's baptism.To read our complete explanation of baptism see link on "baptism."
The Bible teaches that salvation is secure by faith in Christ's person, sacrificial work on the cross, and resurrection from the dead.  "If you confess with your mouth, 'Jesus is Lord,' and believe in your heart that  God raised him from the dead, you will be saved." (Romans 10:9)
Scripture also teaches that "Saving Faith" involves one's whole being, their mind, will and emotions. 
- We  believe intellectually by understanding  and confessing the factual elements of the message.  (Romans 10:14)
- We believe emotionally by realizing our need for Christ as our personal  Savior and Lord. (John 16:8-10) 
- We believe volitionally by an act of our will as we surrender, commit, and  entrust ourselves into Christ's saving hands and to His authority over our lives. (John 3:16;36; Eph. 2:8-10)
Scripture also teaches that only those who possessed "saving faith" were publicly baptized. (Acts 2:41; 8:13; 8:35-38)
Also, scripture teaches us through its silence on this subject, that it gives no specific example of any infants being baptized, only those who have believed.
SO WHAT CAN WE CONCLUDE?
Individuals must  believe the facts of the gospel and confess them openly to be saved.  Individuals must realize their need for a Savior. Individuals must, as an act of their will, surrender and entrust themselves to Christ.
IF MY CHILD HAS EXPERIENCED INFANT BAPTISM, DOES HE OR SHE NEED TO BE DEDICATED?
Since Child Dedication is primarily Parental Dedication, I would first ask, "Have you as parents publicly declared your faith in Christ through water baptism?"  One of the marks of a true follower of  Christ is their intense gratitude for what God the Father has done for them through Jesus Christ. One has a hard time suppressing the liberating joy of knowing  their sins are forgiven and their eternal destiny is secure. 
In the fifth chapter of Luke's Gospel, we see two examples of this reality. First, immediately after Jesus had forgiven and healed the paralytic, Luke writes, "...he stood up in front of them, took what he had been lying on and went home praising God."  Secondly, after Levi responded to Jesus' invitation to follow him, he held a great party inviting all his friends to no  doubt tell them of his decision.  Jesus himself  makes this heart-stirring statement: "Whoever confesses me before men, I will also confess him before my Father in heaven." (Luke 12:8)
The second question I would ask is this, "Have you publicly declared your whole-hearted desire to train and instruct your child(ren) in the things of God?"  This is what is called a confession of accountability—where parents make themselves accountable to the entire church to live up to their commitment.
So even if your child has experienced infant baptism, I would encourage parents to take this step of publicly confessing their faith and their desire to raise their children in a God-honoring way.
If you are interested in Child Dedication, please speak to Pastor Tom to schedule a time and the content of the Dedication Ceremony.